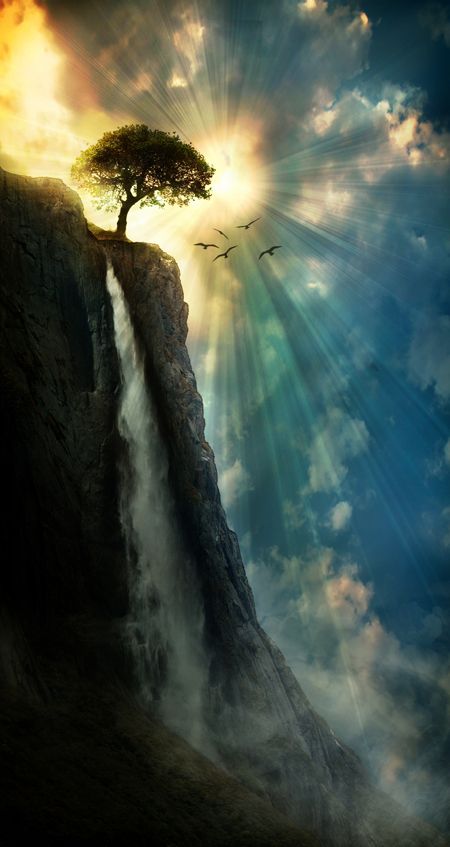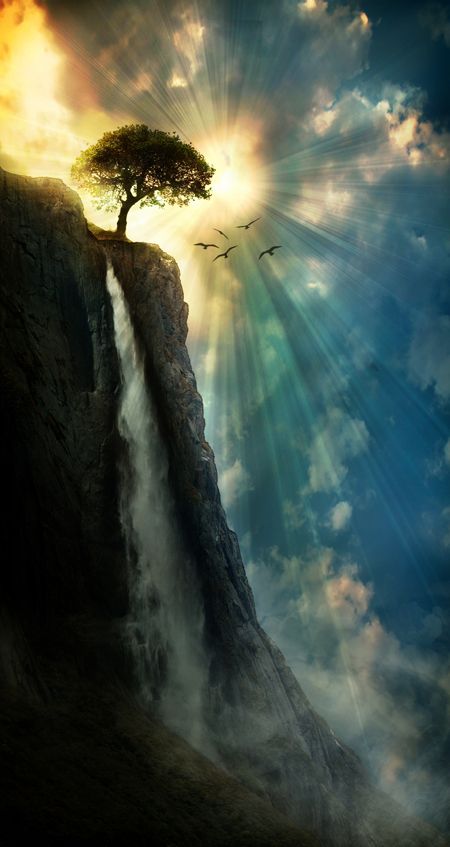 When thou passest through the waters, I will be with thee; and through the rivers, they shall not overflow thee: when thou walkest through the fire, thou shalt not be burned; neither shall the flame kindle upon thee. (Isaiah 43:2)
All of us go through things that "break" us.
The break might be a small chip or crack, or more like something shattering into a million pieces. And then we struggle to glue the pieces back together. Some wounds are so deep only Christ can bring the healing and forgiveness we need to move on. But when we invite Him into our pain, He not only has the ability to heal us, He can also use us in extraordinary ways.
When someone asks about a hard time in our lives, most of us take a second and go back to that moment. Sometimes it's uncomfortable, and other times it can be absolutely heartbreaking. A lot of us don't want to go there, so it can be hard to let others peer into that part of our lives. Even when you're just getting started in life — like I am. What we often don't recognize, though, is the beauty in the midst of our trials.
How can there be beauty in the struggle?
In our key verse, the Lord reminds Isaiah "When thou passest through the waters, I will be with thee; and through the rivers, they shall not overflow thee: when thou walkest through the fire, thou shalt not be burned; neither shall the flame kindle upon thee" (Isaiah 43:2).
No matter what has happened in our lives, we can be comforted that God is there. When reading this verse, I imagine walking through the roughest times in my life but feeling the most amazing peace and comfort. I think that's what God wants us to be reminded of. This world is full of hardship, but we can be comforted in knowing that He knows our hearts more than anyone, even ourselves. He hears our cries and wants us to run to Him.
In the hard times it can be difficult to see what good could come from our "mess," so I want to share three ways God can shine beauty through our struggle.
We lean in.
It's in our desperation — the hardships, pain and trials we face — that we cling to God most tightly. When I was growing up in the church, I was always told, "listen to the still small voice" — meaning the voice of God. He wants us to lean in and listen. I remember that sticking with me. God is gentle with His children, and He never forces us to spend time with Him. Much like any relationship we have with our siblings, children or parents, our relationship with Him is a two-way street. He beckons us into His presence. And not just to list off all of our prayers for the day. He invites us to take a breath and say, "Dear God, You know my heart, and all I ask is for rest. I need Your comfort right now."
We grow in wisdom.
Growth is never comfortable. It stretches us in ways we may not enjoy, but it molds us into who God is making us. No matter how old we are, we all have opportunities to grow in wisdom. When I'm discouraged by the struggle, I remember the process is beautiful … because I'm learning how to be more like my heavenly Father.
We help ourselves help others.
I used to think I was alone in many of my struggles. Once I became aware that others were in the same boat, my whole perspective changed. Our pain can be our platform to relate to anyone. Everyone longs to be understood. It feels good to have someone who's been there and isn't afraid to admit it. There is beauty in being vulnerable with your pain or struggle.
When looking at so many examples in Scripture, I cannot help but look at the whole picture of the Bible. It's truly one beautiful story made up of many ordinary people like you and me. But the best part of all is that Jesus walked with those people in the midst of their struggles, which means He will for us, too! Whatever it may be. He's there. He's listening, and He wants to fight for us. All He asks for us to do is rest in Him.
Dear Jesus, give me the strength today to endure all that is in front of me. Help me believe You are with me in the highs and lows of life. In Jesus' Name, Amen.
When I read this devotion it blessed me. What an incredible reminder. With Christ, it is indeed possible to find beauty in the struggle. I read a quote today that said, train your mind to see the positive in every situation. When discouragement and heaviness from your struggles start creeping in, remember today's devotion, and be willing and open to lean in, grow in wisdom and help yourself help others. See the beauty in your struggles today.
Have a beautiful and uplifting day in The Lord!
Today's Reading is Ephesians 4:29
---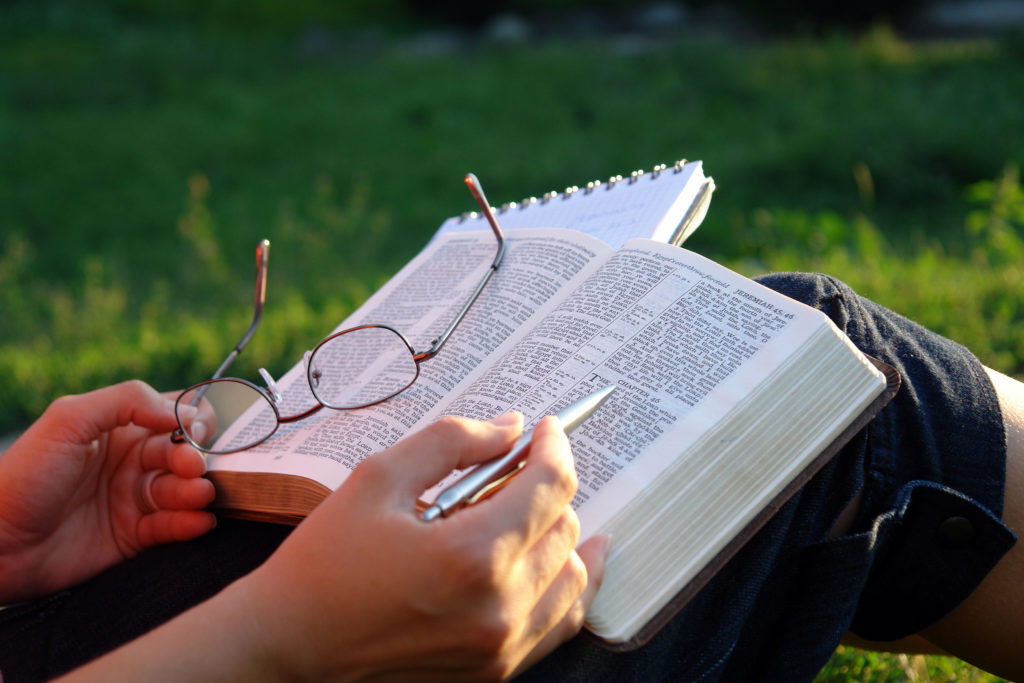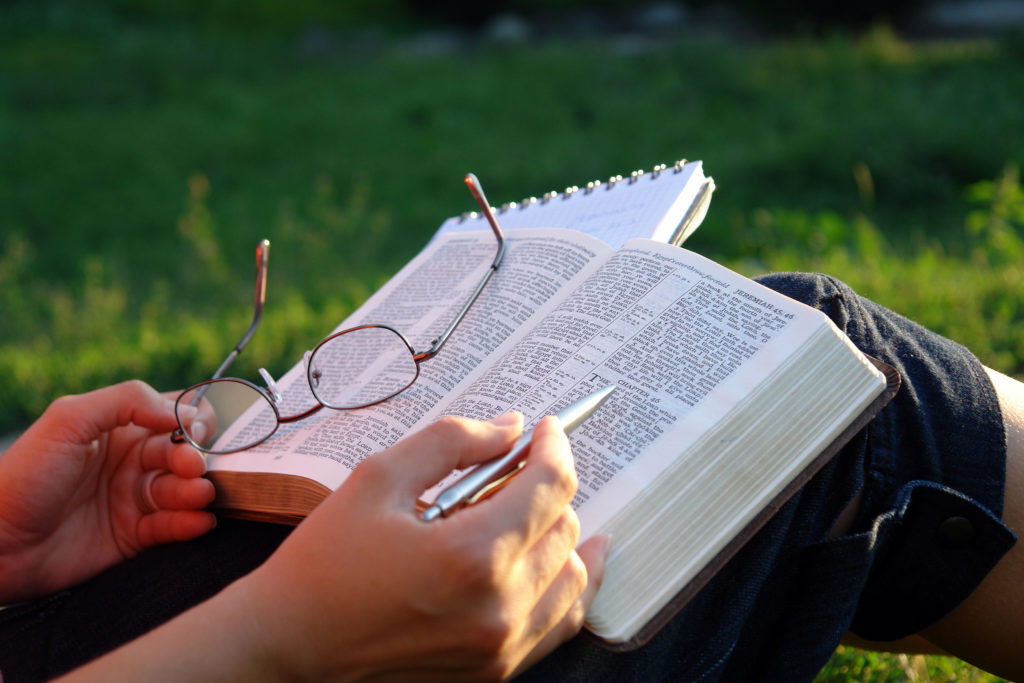 Therefore if any man be in Christ, he is a new creature: old things are passed away; behold, all things are become new. (2 Corinthians 5:17)
I woke up that night feeling extremely anxious.
Maybe it was the sudden noise outside which jolted me awake, but there I lay, eyes wide open, thoughts racing. It's in moments like this I find it hard to hold my peace. Halfway between asleep and awake, I usually start playing out yesterday's happenings. Thoughts like, Why did I do that? or, What did they mean? paralyze me.
For years I used to lay there, utterly miserable. Dreading the morning-after experience. My nighttime thoughts kept me over-processing, believing I might think my way out of this.
Nope. It's not that easy. After years of this happening, I've learned the truth about my struggle.
Have you ever asked the question, If I'm following Christ, why do I still struggle? or, Is it normal to feel like I'm in a battle while following Jesus?
Whew, me too. I've learned to ask, Where is this battle coming from … and is it coming from God, me or the devil? Knowing its origin always gives me a better battle plan.
Here are two battlegrounds we can find ourselves occupying:
Internal Battleground
As soon as we receive Jesus, we become entirely new people. The Bible says our spirit suddenly becomes alive for the first time, and the Holy Spirit lives inside us, able to affirm what God says to us through His Word. We are reborn … born again!
Today's key verse confirms this,"He is a new creature [reborn and renewed by the Holy Spirit]" (2 Corinthians 5:17).
But even with the Holy Spirit residing inside, the Christian life is not always easy.
Ever felt like life isn't entirely working for you the way it's supposed to? Or thought someone else got more God than you did? I know I have — but why? It's because our minds, thoughts, attitudes and beliefs must also be renewed. Yes! Our spirits want to agree with God, but our old lifestyles and sinful habits can trick us into believing we're not yet free. They lie.
The most potent weapon, then, is to agree with truth. It's that simple. We need to ask ourselves, What does God say about me? If you know what He says, then you'll know how to do battle with what's coming out of the old you. It's no wonder the Word says in John 8:32, "And ye shall know the truth, and the truth shall make you free".
External Battleground
"He maketh his sun to rise on the evil and on the good, and sendeth rain on the just and on the unjust" (Matthew 5:45).
Sometimes the struggle merely happens because we live in a fallen world. Which means no one is untouchable. Each of our lives is touched by pain, sickness and death. Life happens. Evil persists. The devil is real. The fact that we face hard things doesn't always mean we're guilty of a specific crime. Suffering only confirms that an active battle still separates us from God.
God doesn't remove our power to choose good or evil. Our choice is vital to God's supernatural eco-system, because without choice there's no such thing as real love. We each have an authentic opportunity to choose Him or choose evil. And sometimes this means other people choose evil. We can't control other people's choices. Many battles are the results of people's wrong decisions, as they give themselves over to Satan's darkness. Their decisions have consequences that affect us no matter how much we rely on God's guidance.
So whether we struggle internally or externally, what are we to do? Let's remember we make a conscious choice to partner with truth. We can ask the Holy Spirit, What are You saying to me? and What do I need to know in the darkness? Then, the truth will set us free.
Lord, thank You that I'm stronger than anything I face today because You are helping me! Help me partner with Your truth and what You say about me. In Jesus' Name, Amen.
I was so blessed by this devotion today. I pray it touches your heart and hits home in some way. I know it did for me. We all have our struggles but at the end of it all, even in the darkness, He is stronger than anything we face. He is the light and the hope I need to keep on keeping on. Thank You Lord for this reminder.
Have a beautiful and uplifting day in The Lord!
Today's Reading is Psalm 46:1
---