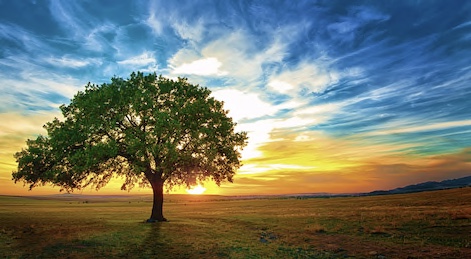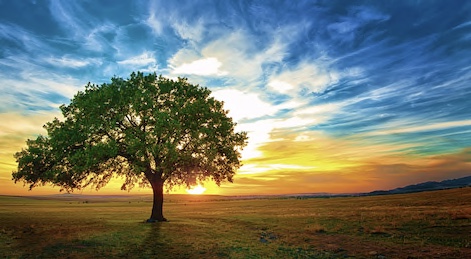 My soul, wait thou only upon God; for my expectation is from him. (Psalm 62:5)
WHEN YOU ARE feeling overwhelmed and exhausted like David in the above verse, know that you do not have to face your problems alone. Take a few deep breaths and exhale your tension. Turn to God. Surrender your anxiety to Him. Pray and ask God to fill you with His perfect peace.
Heavenly Father, my hope comes from You. Amen.
As I was seeking out a devotion for today and I came across this one I thought to myself, wow, that's possibly the shortest devotion to have ever been posted on here. As I started to move past it I felt a nudge in my spirit to post it. Sometimes in life we have moments just like this devotion, we don't need something lengthy, just enough, little is much when God is in it. Don't be discouraged today if your feeling one step behind life, just keep stepping forward one small step at a time and when you least expect it, you will be standing in victory. Remember, surrender your stress today, your hope is in Him! It's truly that simple.
Have a beautiful and uplifting day in The Lord!
Today's Reading is John 14:23
---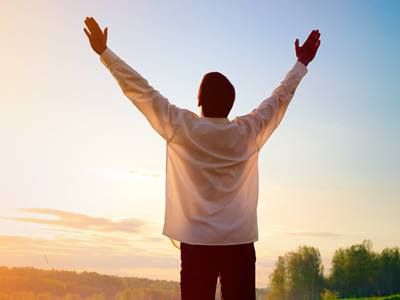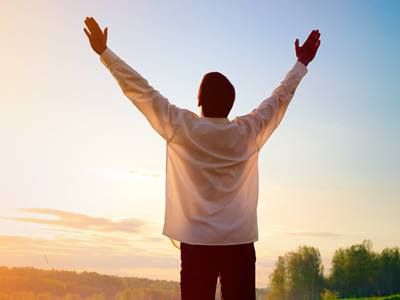 In every thing give thanks: for this is the will of God in Christ Jesus concerning you. (1 Thessalonians 5:18)
What do you do when nothing but uncertainty and insecurity fill your mind? How do you overcome the sensation that your entire body is burning as a result of fear and panic? Whether we admit it or not, all of us will have to deal at times with circumstances that overwhelm us. We all go through problems that take us by surprise, come out of nowhere and make us feel trapped that we have to surrender to its way. It has been in these times that I have cried out to God from the depths of my heart, "Why?" My thoughts range from "What have I done wrong to deserve this?" to "Where is God?" My mind sorts through the circumstance until I am exhausted, while my body burns like a fire that melts my insides. For some of us, we share the pain we are suffering because we are searching for answers and trying to sort through our thoughts and emotions. For others, we attempt to control and mask the thoughts and emotions so no one will suspect the struggles we face.
Regardless of how we look or feel in a time of crises, we need to learn how to get through those times with the Lord. The circumstances may seem to trap us, but getting and keeping control are not the answers. The only way to find freedom when life has pinned you down and chained you in is through surrender.
The word "surrender" has mixed connotations. It is an easier word to accept than "submit" but it really does have the same meaning. During those times that our mouth is praying out of panic, our inward soul needs to learn to surrender and submit to the sovereign, all powerful, ever present God. In other words, your heart needs to speak words of praise and thanksgiving even though your flesh (including your mind) is pleading for God to rescue you. It is in this place of praise that an overwhelming peace begins to cover your heart, mind, soul and quenches the fire within you. To give thanks in everything is a hard action to apply. The Christian who can truly apply this principle to his or her life demonstrates a real maturity in their walk. It is in this place that the chains of oppression will be broken, setting the captive free.
Oh Lord, teach me how to sincerely praise You in the good times so that a wellspring of thanks may truly overflow from my heart during those frightening, overwhelming trials. I want to walk in power and peace. I know that they stem from a heart of praise. Help me to have that heart of thanksgiving for everything You are doing in my life. In Jesus name, Amen.
When I read this it blessed me. I feel so many people can relate to those overwhelming feelings of fear, weather we admit it or try to hide it but then I am reminded of Psalms 139, O lord, thou hast searched me, and known me. Thou knowest my downsitting and mine uprising, thou understandest my thought afar off. Thou compassest my path and my lying down, and art acquainted with all my ways. For there is not a word in my tongue, but, lo, O Lord, thou knowest it altogether. Thou hast beset me behind and before, and laid thine hand upon me. Reach out to Him in times of joy and in times of fear. Surrender in Thanks!
Today's Reading is Deuteronomy 7:9
---
But the fruit of the Spirit is love, joy, peace, longsuffering, gentleness, goodness, faith, Meekness, temperance: against such there is no law. (Galatians 5:22-23)
I recently read, Surrendering our first instinct, which is what we want or what will best suit us in this life is probably one of the hardest things to master. How often have we been defeated by a bad habit, a lousy attitude, or a wrong mindset? We make promises to improve. We ask someone to hold us accountable. But deep inside, we know that we don't have the will or the ability to change. We can talk, we can plan, we can read self-help books, but we still find it difficult to overcome and control many of the things that are inside us!
Thankfully, God knows our weakness, and He also knows the remedy! The Bible says, "the fruit of the Spirit is love, joy, peace, longsuffering, gentleness, goodness, faith, Meekness, temperance: against such there is no law" (Gal. 5:22–23). The only way to gain self-control is by allowing the Holy Spirit to have free rain in our lives.
In other words, our key focus is not effort but surrender—to live moment by moment submissively trusting in the Lord rather than in self. Paul says this is what it means to "walk in the Spirit" (v. 16).
Are you ready for a change? You can change, for God is in you. As you surrender control to Him, He will help you bear the fruit of His likeness.
I am in need, Lord, of Your power so that I might change and grow. I surrender myself to You. Please help me to understand how to be submissive to You that I might be filled with Your Spirit. Amen.
Have a wonderful day in The Lord!
Today's Reading is Galatians 5:16-25
---